This is an original article written by Shekhar Chandrashekhar of California Manufacturing Technology Consulting, part of the MEP National Network.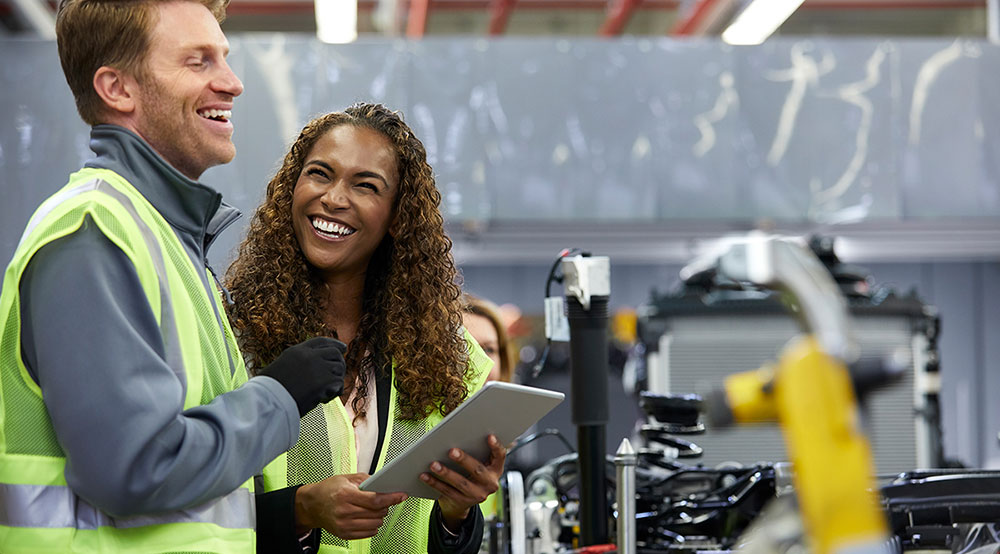 Today, most manufacturers are engaged in activities that could be considered part of "Industry 4.0." (70% according to the World Economic Forum's [WEF] white paper, "Fourth Industrial Revolution: Beacons of Technology and Innovation in Manufacturing").
But only 29% of those companies are deploying new technologies at scale, granting them opportunities to realize game changing impacts such as:
Resource productivity and efficiency
Agility and responsiveness
Value-added services
Business model innovation
Speed to market
Customization to customer needs
So how do the other 71% of companies who are pursuing Industry 4.0 projects — but not scaling their efforts — get unstuck and start realizing some of the business advantages promised by these new technologies? Here are five principles you can use to embrace Industry 4.0, no matter what size your company.
1. Set Goals
Simply acquiring a new technology will not affect your business in a positive way. It has to be implemented intentionally, which means using it to achieve a desired outcome and attending to all of its implications, which range from process modifications to changes in company culture.
The truth is, most of the Industry 4.0 technologies align with business goals many manufacturers already have, such as:
Optimizing processes
Shortening cycle times
Improving quality
Reducing energy losses
Shortening downtimes
Improving overall equipment effectiveness
Understanding how advanced manufacturing technologies can support these goals is the first step in establishing a scalable Industry 4.0 strategy. The WEF report, for example, cites instances where manufacturers used new technologies to achieve truly meaningful business results such as:
Increasing labor productivity by 30% with flexible automation assembly lines
Increasing labor efficiency by 25% with collaborative robotics
Increasing cycle time by 60% with additive manufacturing
Reducing deviations by 80% with advanced analytics
Reducing customer complaints by almost 60% with artificial-intelligence quality management systems
Saving over 40% of energy used in lighting through the installation of intelligent lighting controls
Saving up to 30% of energy consumption with a building energy management system
2. Improve with Data
One of the great promises of Industry 4.0 is data-driven decisions. Most companies already have a lot of data on hand; they just don't know how to extract meaningful insights from it. Artificial intelligence/machine learning can help you structure data so that it can become a strategic asset for your business, empowering you to improve efficiencies, products, and processes.
Consider the concrete example of existing machine performance. Aftermarket sensors can be added to monitor equipment and environmental conditions, providing reports that indicate which machines need maintenance and which parts need replacement. Forget probabilistic, inconvenient maintenance schedules or unexpected failures — machine servicing will be conducted on as as-needed basis to maximize uptime.
3. Adapt Existing Equipment
As mentioned above, older equipment can be enabled so that it integrates with an Industry 4.0 environment. For example, manufacturers using smart sensors don't need to replace their old equipment to improve processes; instead, they can outfit them with affordable, aftermarket smart sensors, which allow them to reap the benefits of Industry 4.0 technology without purchasing entirely new systems.
"In contrast with the First and Third Industrial Revolutions," asserts the WEF report, "the Fourth Industrial Revolution will have relatively high impact with comparatively little equipment replacement."
4. Educate, Don't Eliminate
As with equipment, it makes sense to adapt existing human resources, rather than scheduling employees for termination if one is to embrace Industry 4.0. New technologies are not poised to replace workers; instead they promise to change the nature of work. "Fewer than 5% of occupations consist of activities that are 100% automatable with today's technology, while 62% of occupations have at least 30% of automatable tasks," states the WEF report.
Moreover, giving workers opportunities to learn new skills will help them become more engaged — another major issue affecting manufacturers today as Gallop's "State of the American Workplace" reports that only 25% of manufacturing employees feel engaged, the lowest figure for any major industry. And the Society for Human Resource Management believes that investing in employees — i.e., keeping your best workers by developing a strong employee development program that grows their skills and their loyalty rather than just replacing them — can set you up for success and save you money.
5. Take Cybersecurity Seriously
As manufacturers incorporate more technology into their operations — and as those systems become more connected, their cybersecurity risks will inevitably increase. Which means that it's imperative that any Industry 4.0 project is supported by a deliberate cybersecurity strategy.
Fortunately, addressing cybersecurity doesn't have to be an arduous, costly endeavor. The NIST Cybersecurity Framework provides manufacturers with guidelines for de-risking exposure to cyberattacks and laying the foundation for compliance with emerging industry standards such as the DFARS requirement for defense contractors who handle Covered Defense Information.
Get Ready to Scale Your Industry 4.0 Initiatives
Industry 4.0, or what WEF calls the "Fourth Industrial Revolution" is a sweeping series of changes affecting the manufacturing sector as a whole. And, as has been noted above, the implications are multifaceted. This means there are lots of ways to begin to embrace it. But really taking it seriously requires a strategy and a roadmap for your company.
To put together a sound plan that responds to this complex and evolving situation, it helps to have a partner and a guide. One that's available to any U.S. manufacturer is the MEP National Network, a unique public-private partnership that delivers comprehensive, proven solutions to U.S. manufacturers, fueling growth and advancing U.S. manufacturing.
Read the original publication.
---
To start a conversation and get a sense of how your company can embrace Industry 4.0, contact IMEC or your local MEP Center.
Learn how IMEC's Illinois Manufacturing Innovation Voucher is helping small and medium-sized manufacturers to embrace new manufacturing technologies in their products and processes.